Heating Contractor Providing Furnace Repair & Replacement in Greater Pittsburgh
Increase comfort and efficiency with an upgraded heating System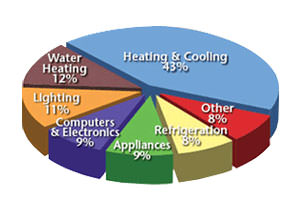 Upgrading to super-efficient heating equipment can cut heating and cooling costs by 30%-50%.
With seasonal differences and ever-changing weather, it is rare when we can avoid using our heating systems. Because we usually need to keep these systems running, they make up the largest part of the typical home's energy expenses- almost half the bill!
Heating components are all characterized similarly: by heatingcapacity, energy efficiency, fuel, and function. If you're interested in more detailed technical information about the various types of Heating elements, check out our pages on specific heating system types.
Expert Heating services in the Greater Pittsburgh area
Are you in need of a Heating system update? One of our skilled technicians can inspect your equipment and identify if you need repairs or replacement. Call or contact us today to schedule a free estimate! We serve Pittsburgh, Butler, Washington, Wexford, Cranberry Twp, Mckeesport, Coraopolis, Aliquippa, Mars, Allison Park, Gibsonia, and the neighboring cities and towns.
Get an in-depth examination of your heating systems from Bolster-DeHart, Inc.
We have the skills and experience to repair heating elements to nominal efficiency. We can return your systems to normal operation with our effective heating repair services, including boiler, and furnace repair. We also offer Free Estimates for updating older models with new, advanced systems that can increase interior comfort while decreasing costs.
Call or email today for a Free Estimate to have your old HVAC system replaced.
Outdated oil furnace replaced with high-efficiency A/C, gas furnace, and heat pump
In this video clip, Dr. Energy Saver gives a 70-year-old home a full heating system upgrade, including a High Efficiency Air Conditioning System, backup High Efficiency Propane Gas Furnace, and High Efficiency Heat Pump.
Proper Insulation Eases the Burden on Heating Systems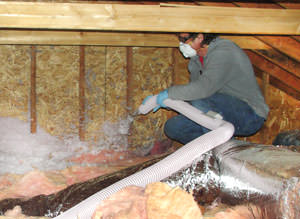 When a Pittsburgh home energy specialist inspects your Heating Equipment, they will also examine the amount of insulation throughout the home. The main reason for this is that insulation slows heat transfer, which will minimize the demand on your heating systems. This means in the winter, better insulation prevents heat from escaping your home, and in the summer, it keeps the heat out so you and your family are comfortable.
A home energy auditor may suggest insulation upgrades in various locations in the home, in addition to effective air-sealing to diminish the amount of conditioned air that escapes outside. Improvements to a home's "building envelope," which include insulation and air sealing, can offer significant savings on energy cost, because a well sealed and insulated home can use a smaller heating system than a leaky, less-insulated one.
Free Cost Estimates for Home Heating Upgrades!
Call or contact us today to schedule a Free Estimate for heating installation or replacement. We are a trusted, local heating contractor, proudly serving Cranberry Twp, Washington, Butler, Wexford, Pittsburgh, Gibsonia, Mars,Coraopolis, Aliquippa, Allison Park, Mckeesport, and more!
We can significantly improve the performance of your heating systems, whether it be boilers or furnace repairs & replacement, and we also offer an in-depth home energy audit.
Looking for a price? Get a no cost, no obligation free estimate.