Gas Heating Systems Near Pittsburgh, Butler, Washington
Gas furnaces and boilers provide efficient home heating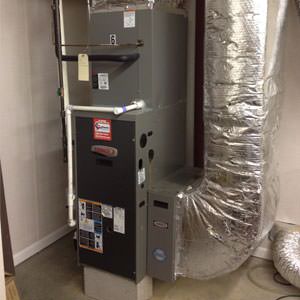 A standard gas-fired furnace. This type of furnace must vent through a chimney and uses room air to aid combustion.
Gas heating systems are one of the most popular heating systems available. Gas furnaces and boilers typically use either natural gas or propane as the fuel source. Both of these fuels are mined and processed to create an efficient heating option.
Bolster-DeHart, Inc. are your local experts for gas heating services. We can service your gas furnace or boiler to ensure maximum efficiency, or replace an old, inefficient oil furnace or boiler with a state-of-the-art system to save money and improve comfort.
If you're interested in upgrading your home's efficiency and saving money on heating costs, contact us today to learn more about installing a gas furnace in your home. We offer free estimates in Pittsburgh, Butler, Washington and throughout the surrounding areas.
Understanding furnace efficiency rating
A furnace, boiler, or water heater burns fuel to generate heat that is sent as an air stream in your ducts or into water in your pipes. The efficiency rating is what percentage of that heat gets into your air or water. What happens to the rest of the heat? It goes up the chimney and is lost into the sky.
Therefore, a 15-year-old furnace that is 65% efficient is putting 35% of the heat you paid for up the chimney. A 96% efficient furnace only "wastes" 4%! This obviously has a huge impact on your heating costs, and since the cost of the fuel you put through a furnace, boiler, or water heater during its lifetime is much greater than the cost of the unit itself, it's worth it to install the very highest efficiency equipment available.
With the newest technology available, gas furnaces can operate at over 94% efficiency. This means that by upgrading from a 65% efficient gas furnace to a 96% gas furnace, you'll drop your gas bill by 31% just by doing that alone!
Choosing the right gas furnace
Like most gas-burning appliances, gas-fired furnaces and boilers can easily be modified to burn propane or natural gas fuel. A furnace will supply hot air to a forced-air heating system; a boiler supplies hot water for heating and/or washing.
Propane contains more energy than natural gas, so producing a given amount of heat will require less propane than natural gas. However, propane is also more expensive than natural gas, offsetting its higher energy content. The choice between the two fuels often depends on what is available locally.
Natural gas arrives in homes via underground pipes, while propane is stored in one or more tanks located outside the house that are refilled as necessary. Both propane and natural gas produce less pollution than fuel oil when burned, making it a more environmentally friendly option. Additionally, natural gas prices are expected to be more stable than oil prices.
Upgrade to an efficient gas heating system today
If you're looking to save money on your heating costs, a high-efficiency gas furnace or boiler from Bolster-DeHart, Inc. is the solution you need. We provide complete installation, replacement, and repair services in Pittsburgh, Butler, Washington, Wexford, Cranberry Twp, Mckeesport, Coraopolis, Aliquippa, Mars, Allison Park and the nearby areas. Call us today at 1-855-262-8724 or contact us online to get started with a free estimate!
Looking for a price? Get a no cost, no obligation free estimate.